Tripawds is a user-supported community. Thank you for your support!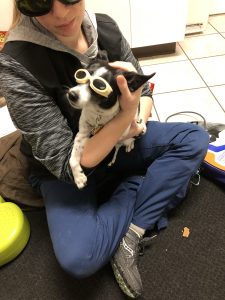 I HAVED LASER THERPY ON TORI'S LAP.  I HAVED TO WEAR MY COOL HOLLYWOOD SHADES TO PROTECT MY EYES.  I AM A SUPERSTAR.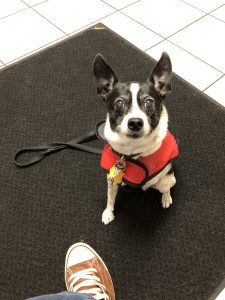 HERE I AM WEARING MY RED RAIN COAT WAITING FOR THE THERPIST CALLED TORI TO COME SEE ME.  LOOK AT MY CUTE FACE.
DO YOU SEE THAT I AM OLD TO HAVE A WHITE FACE NOW?  IN MY AVATAR PIC I WAS YOUNG TO HAVE A BLACK FACE.  NOW I AM SENIOR AND DIGNIFIED.  PLEASE TELL TO ME IF YOU LIKE MY PICS.
THANK YOU.
MUCH LOVE FROM SPARKY SUPERSTAR DOG